Master Humphrey's Clock is a project that explores the many intersections between circulation and storytelling, set up in the context of the new urban developments in The Netherlands.
Participating artists: Agency (BE),
Mariana Castillo Deball
(MX/DE),
Ricardo Cuevas
(MX),
Gintaras Didziapetris
(LT),
Geoffrey Farmer
(CAN),
Victoria Fu
(US),
Dora
García
(ES),
gerlach en koop
(NL),
Noa Giniger
(IL/NL),
Július Koller
(SK),
Gabriel Kuri
(MX/BE),
Nick Mangan
(AU/DE),
Flávia Müller Medeiros
(GB)
with Irka
(BY/LT),Radim Pesko and Louis Lüthi (NL),
Sandy Plotnikoff
(CAN),
Michael Rakowitz
(US),
Simon Starling
(GB),
Michael Stevenson
(NZ/DE),
The Faculty of Invisibility
.
Curated by the participants of de Appel
Curatorial Programme
07/08: Yulia Aksenova, Jesse Birch, Sarah Farrar, Inti Guerrero and Virginija Januskeviciute.
The main exhibition of the project took place between 11 May and 8 June 2008 in the
Stanley Brouwn
pavilion
and other venues in
Leidsche Rijn, Utrecht
and within the Shadow Cabinet at
de Appel arts centre
, Amsterda
m from 22 February to 8 June.
Other projects are being distributed through the international art journal Fillip Art Review (Mariana Castillo Deball) and via international postal services (The Faculty of Invisibility).
The title Master Humphrey's Clock is borrowed from a weekly periodical written and published by Charles Dickens. It is an inspiring story of shifted intentions, the account of which was found in the Preface of The Old Curiosity Shop in a second-hand store of a new urban development in Leidsche Rijn.
---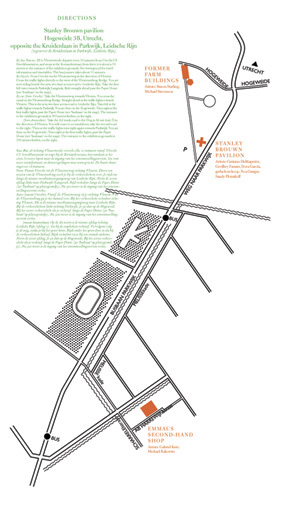 Map and directions to exhibition venues in Leidsche Rijn

The fourth issue of F.R. David, or The Book of Intentions, is one of the sites of Master Humphrey's Clock. Within the camouflage of this pirated journal the curators of Master Humphrey's Clock chose to encapsulate their intentions -- shared, stolen or otherwise discovered, rather than just letting them dissolve into the final exhibition.

The second part of this publication, Index, will be published in summer 2008.









Last updated: 09 June 2008.